Greek Beef Stifado stew
The following recipe is one of the traditional greek recipes that need to not be forgotten. The characteristic ingredient for this one is the shallot onion and its name…"Stifado"
The word "stifado" (στιφάδο in Greek) come from the ancient greek word "τύφος" which means steam. While if you use google translate it will return the word "stew". Even if the meaning is partly correct, stifado is more than just a stew in red sauce.
When we in Greece talk about Stifado we mean a stew that is served together with lots of small whole onions the so called shallot onions. You can have rooster or even better rabbit stifado as they are the most popular ones. However, in this case we will beef stifado stew which can be equally tasty.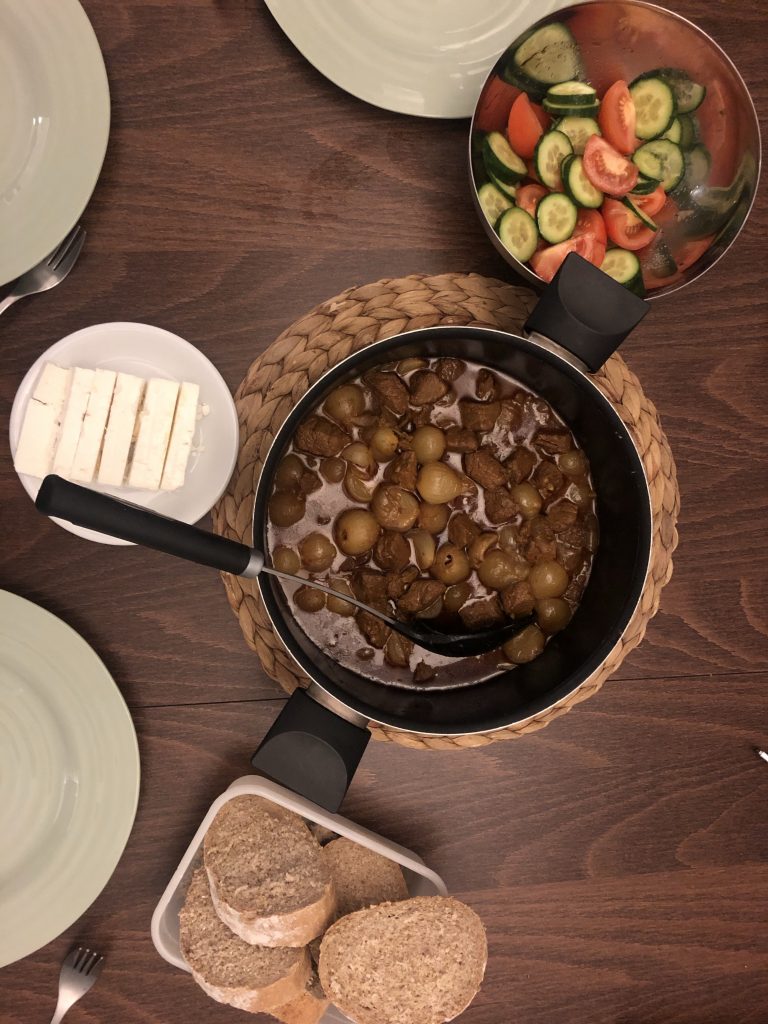 1 kg of beef cut in small cubes
2-3 kg of shallot onions
1/2 cup of olive oil
3/4 cup red wine
1big mature tomato cut
1 can of tomato juice
1 bay leave
salt and pepper
The most difficult part of this recipe is to clean the onions before you place them in the pot. As you will have to keep there round shape it makes it even more difficult, unless you follow this procedure.
Wash the onions as they are with lots of water and then add them in a pot with boiling water. Let them boil for no more than 15 minutes. Drain them, and then they should be easy to clean them with a knife easily. Cut the edges and remove the outside leave. Dont remove too many leaves as then there wont be much left from the onion.
Now lets go to the easy part!
Take a big pot and add some butter together with olive oil. Heat it up and add the onions. Stir them well but be careful for the onions to not loose there shape. We need them to be round!
In a pressure cooker we add a bit of olive oil, garlic and thinly cut onion. Throw in the beef and cook them a bit until it is a bit brownish from all sides.
Pour in the Tomato juice from the can and the vegetable cube. Add spice , salt and pepper as well as water. Cook it in the pressure cooker for around 30 minutes but double check the timings with your cooker.
When this is done, you will add the onions and keep boiling them for 10 minutes more until the sauce is thick and nice. Dont add any more water, as the onions will remove water by themselves, just boil them without any cup.