A walk in Varvakios Market in Greece
Last new years astve i decided to have a go at the main center of Athens in the morning in order to have a chance to get my last presents. Walking up and down in Athens i ended up walking inside the biggest food market in Athens. The Varvakios market.
Varvakeios Agora – the biggest market area in one locale in Greece – is one of the city's landmarks and known all over as a ''must visit'' for the best meats, fish, fruit, vegetables, herbs and spices. The market is referred to as the Municipal or Central Market of Athens or, as the locals would say, the Kentriki Agora, and of course the Varvakeios Agora as most people know it.
Historical Background
Designed by the architect Ioannis Koumelis the Varvakeios was built between 1876 and 1886 and replaced a previous unsightly arrangement of wooden sheds and flimsy structures, which had served as public market before. Even a huge fire in 1884 did not stop the project. Named after one of Greece's national heroes, Ioannis Varvakis who lived between 1745 and 1825 and is remembered to this day for his part in helping Greece gain independence from their Ottoman rulers; the market draws visitors from all over. The complex underwent extensive renovations during the period 1979 – 1996 and today houses more than 70 shops under the covered area alone. Apart from the meat, fish and fresh produce counters to peruse, sit down at some coffee shops, restaurants, fast food outlets and little tavernas. Ask for patsas (made from pork stomach) to get rid of a hangover or too much rich food after a heavy night out!
Where to Find the Market
Situated on Athinas Street and adjacent roads such as Evripidou, Eolou and Asophocleous Streets in the heart of the city between Omonia and Monastiraki Squares, the market is easy to reach. It is within walking distance of the City Hall and the well-known Kotzia Square which many tourists find very convenient as quite a number of hotels are situated nearby.
Opening Hours
The market is open between 7am and 6pm every day, including Saturdays, but closed on Sundays. The only exception is Easter, Christmas, Clean Monday and other important holiday festivals when Greeks follow a special diet. During those festivals the market may stay open longer and also operate on Sundays.
Value for Money
The younger set may prefer to buy their food in modern supermarkets; however, those above 40 generally understand where to find the best value, which is in the halls and aisles of the Varvakeios Agora. Meat, fish, fruit and vegetables are fresh and you can handpick what you like. Prices are better than those you find in modern supermarkets. The real value is probably found in the fact that you have a huge variety, that you can compare prices and be sure of absolute freshness before you buy. If restaurant owners shop here, so should you!
Like all big cities, Athens and shopping are best experienced when you shop where the locals shop – yes, often you find the heart of the city and its culture where the locals go to buy their fresh fish, meats and produce. The Varvakeios Agora is an excellent example.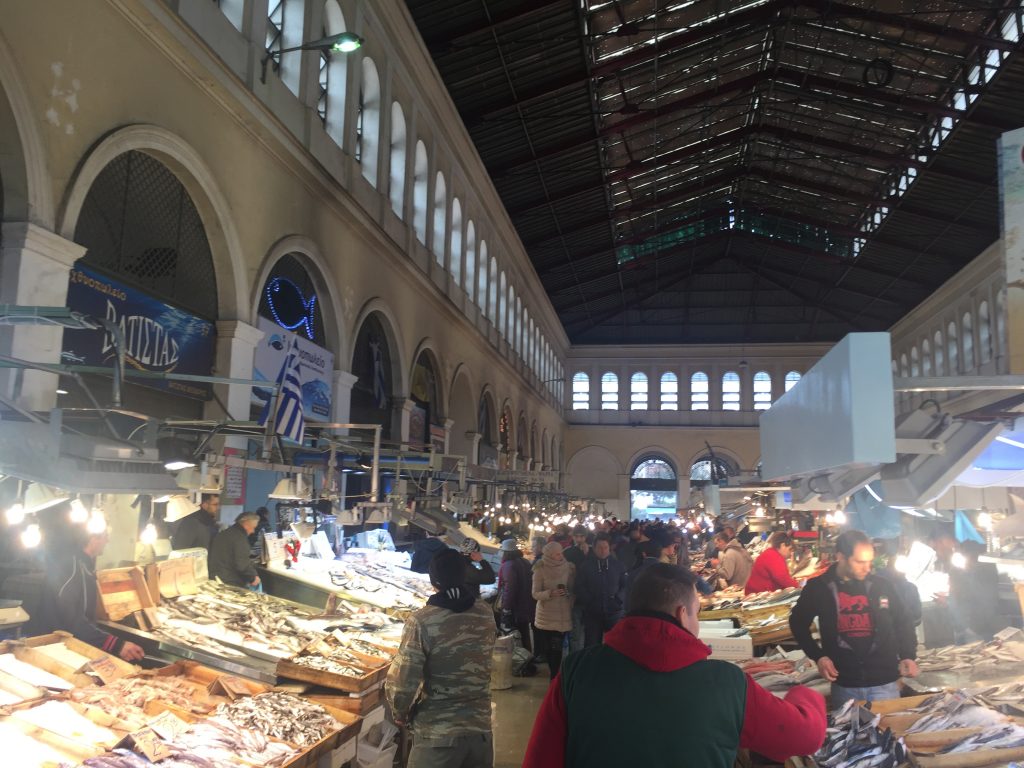 The Fish Market
Since fish forms an important part of the Mediterranean diet, it should come as no surprise that the Varvakeios Fish Market serves up to 5,000 customers every day; the fish market alone employs more than 400 staff members that handle as much as 10 tons per day. The choice is great – from bream, cod, mackerel, sardines, swordfish, sole and monkfish to anchovy and more. It seems the list is endless. In fact, you will find almost any fish the Aegean Sea has to offer.
Varvakios Meat Market
This section is found next to the fish market – it surrounds the fish market on 3 sides – and has an amazing choice of beef, pork, goat, lamb, chicken, livers, kidney and sometimes rabbit. Some fresh, and some cured – the latter perfect as gifts. People come over here before easter to get ingredients for the easter soup, magiritsa or before christmas to prepare the traditional dinner.
Vegetables and the Spices market
Fruit and Vegetables Opposite the meat and fish markets you will find the freshest produce imaginable: peaches, lemons, grapes, oranges and prunes, amongst choices. Look out for every vegetable your heart desires: a variety of pumpkins, cauliflower, broccoli, and potatoes. You name it, it's there.
Olives and Spices Olives are very popular and easy to find in Greece. The Varvakeios Agora is no exception, and every variety imaginable is to be found in the market. Most storeowners will allow you to sample their olives before you buy. Spices and nuts are on display in the Evripidou Street area, as are raisins, dates, berries and a variety of dried fruits.
Some Valuable Tips
* To get the most out of your Varvakeios Agora experience, make sure you're not in a hurry. Take your time and, apart from visiting the fresh food stores and counters, browse through various stores that sell canned and bottled products too.
* To avoid a typical buyer's rush, try and visit the market between 10 am and 1 pm. That way you can be sure of having the best options AND fresh produce at hand since all stores will be open and the choices will be great.
* As for transport: rather than use a private car or taxi – which can get caught up in the city's terrible congestion – consider the metro service and other modes of transportation such as one of the various bus lines. You don't have to worry about parking, which is not only hard to find, but also very expensive.
* It is best to wear shoes and not flip-flops as the floors may be damp or wet.
* If you are prepared to wait until later in the day, prices are likely to drop as vendors want to be sure to sell all their products.
* Gifts – tourists have a wonderful choice of canned sardines, meats, spices, olives, cheeses and dried fruits to take home with them.
As one of the outstanding landmarks in Athens, the Varvakeios Agora has been bringing food to the public – locals as well as visitors – for almost 150 years. Its popularity as culinary destination can't be questioned.