Roasted Sweet potatoes with Feta cheese
Obviously sweet potatoes were something that i learned during my years in UK but the combination with feta cheese and chickpeas make it a great lunch for every day.
Chickpeas is something that we used to eat mainly as a chickpea soup but obviously that is not the only way to taste them. I guess if you mix feta, with sweet potato and chickpeas you will get a healthy and nutritious dinner but that wasn't what attracted me to this. What i do like is how easy it is to make and ideal for everyday of the week when you are rushing after work.
The mix just allows the main ingredients to stand out, and they all complement each other perfectly. To make the recipe faster i use already boiled chickpeas.
INGREDIENTS
1kg of sweet potatoes. The biggest you can find
2 teaspoons of olive oil
Salt, Pepper
350gr Chickpeas already boiled.
Juice from 1 lemon
1 tea spoon of cumin
Coriander
150gr feta cheese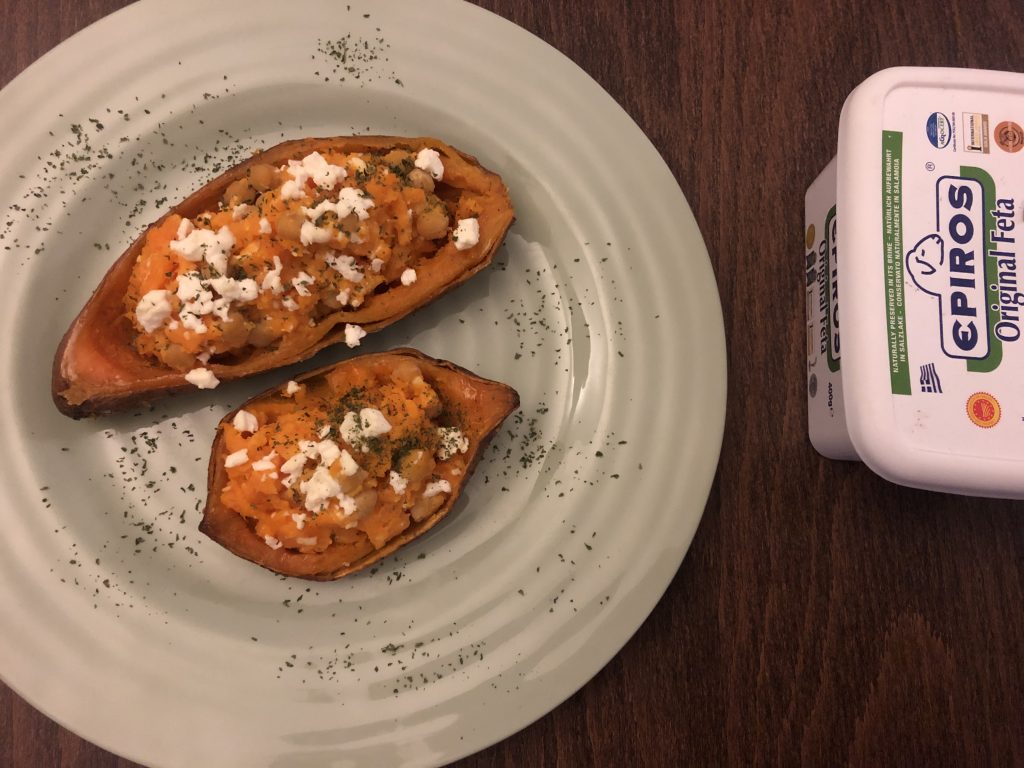 Method
Preheat the oven in 200c . Put some olive oil on the top side of the sweet potato. Afterwards place them with the flesh looking down in a baking pan.
Cook them for 45 minutes or until the flesh is soft enough
Remove them from the oven and with a spoon make space in there flesh, removing if needed some of the flesh and keeping it in a bowl.
Mix the chickpeas with the feta cheese, cumin and the lemon juice adding as much salt as we like. -Also add any flesh from the sweet potato was left
Add them in the sweet potatoes and make sure to sprinkle a bit of feta on top also. Bake them for 10 more minutes until the feta cheese starts to melt.
When you are done, sprinkle with some olive oil and add a bit more of coriander. Enjoy!