The 10 best bakeries in Athens,Greece
The smell of bread coming out of the oven is unique in Greece. It awakens childhood memories, reminds you of situations and travels you on delicious paths and roads. I think there is no better start to the day than visiting an oven that is full of freshly baked goodies and that is why we have gathered the 10 best stops that if you stay close you have to go every day if you stay for it is worth visiting if they are on your way.
Before we go on, some more details about bread in Greece.
Psomi" (greek: ψωμί)  is the word for the classic, traditional type of bread found throughout Greece, dating back perhaps thousands of years. Historically, when homes did not have their own ovens capable of baking bread, women would take their dough to the town baker to use his oven to get this essential item fresh for their families daily. In Greece the local baker became a central point in every village, sometimes acting as a communal kitchen. That had as a result the Greeks having very intimate, personal, and involved relationships with their favorite bakers and bakeries.
Have a look now on the best bakeries in Greece

Takis
If you live in Koukaki then you are lucky. You have the privilege to start your day with a stop at Takis, who has been working in the same position since the 70's. It is a small struggle to find what you will choose from its huge variety of breads. And it does not stop there. Sweets, sandwiches, buns and everything else you can imagine, you will find them all in their excellent quality at Takis. Its aesthetics are genuine and traditional. If you want to be stunned by its smells, you can spend the early morning hours. But believe me this is a slow torture.

Misaraliotou 14, Athens

Pnika
The history of bread in Athens is intertwined with Mr. Dimitris Kotsaris, who built a legacy that even today seems to teach the right bread. Its ingredients are simple. Water, a little salt and proper flour. The latter was his greatest passion, so he built his own stone mill in the bakery of Pagrati.

Today, his son continues the glorious work and the three shops of Pnyx daily offer pure, divine and delicious bread. Do not forget to try the bread 'Pnyka' with buckwheat and sourdough, as well as the bread with herbs in a form with stone mill flour. Also, on the way to get his cheese pie with a secret recipe from Pnyx. With the three bakeries in the center of Athens, you have no excuse that you were not close to try it.
Pratinou 13, Pagrati, 2107251941,

Lycabettus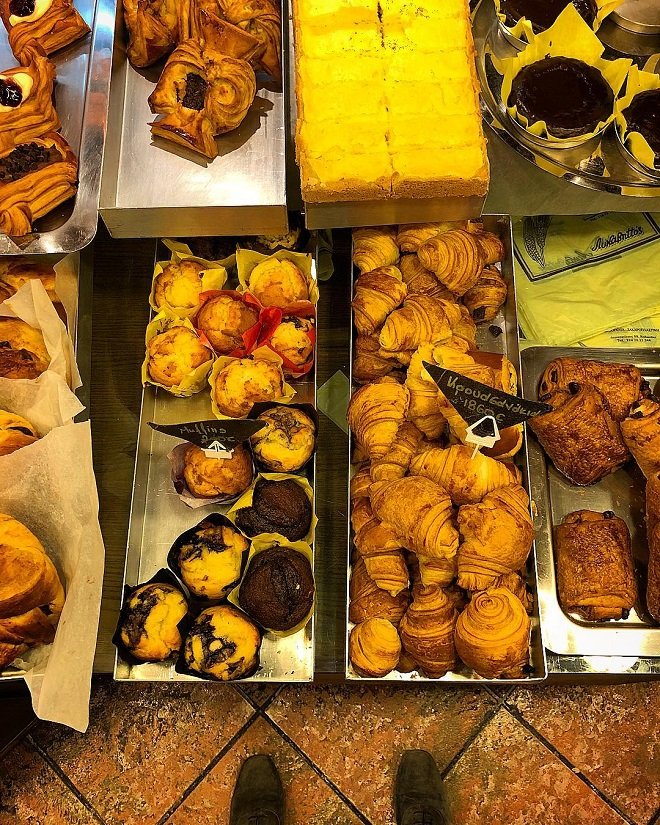 If you are a fan of the German school in bread then you will love this oven to death. The wonderful aesthetics of the space is harmoniously combined with the wonderful aesthetics on its shelves, with the breads making a wonderful canvas with their different colors. I will not start giving you categories of bread, since you have to go from there to see them, to smell them and to choose which one will turn a blind eye to you. Of course, you should not forget to try his mini sandwiches, his sweets and his Christmas melomakarona. Generally, once you enter Lycabettus, you will not know where to move and you will lose your orientation.

Deinokratous 59, Kolonaki, tel. 210 7211348

Mom bread

From the outside, it looks like another bakery in the neighbourhood. But as soon as you enter, first, the aesthetics and then the smells (or even upside down) make you understand that something beautiful is happening in here. The piano has its own prominent position and you may be surprised to find it in an oven. But the issue here is bread. Pure, delicious and fragrant, made with organic flour by small producers in Epidaurus, you immediately understand that in this corner shop the bread lives its apotheosis.
Zacharitsa 42-44 & Zinni, Koukaki
Rizos
Koukaki could easily be the perfect area for bread. Another stop you must make if you are in this beautiful neighborhood is Rizos. With continental roots, it is a guarantee for delicious traditional bread. But Rizos does not live there alone. It has a wide variety of German breads, rusks and a wonderful bun. I've had fun with his baguette but these are preferences.

Matrozou 12, Koukaki

Bread Varieties Exarchos

There in Piraeus there is a bakery that has a tradition since 1934 and is located in Gallipoli. He moved to his current location in 1981. From generation to generation, few things have changed and that is what makes him so enchanting. More than ten types of bread, from Gianniotiko, with yellow village flour, wholemeal dandruff to octahedron but also more modern breads with chia seeds. Do not forget when you go to try his awesome cheese pie and his handmade sweets.

Friendly Society 29

Karras
A little further north, on the borders of Attica and specifically in Agios Stefanos, is Karras. An oven that bakes in wood and has a tradition since 1930. Whatever you choose has the magic touch of the wood oven that makes it even more perfect. Apart from his bread, everyone is talking about his bun with the chocolate layers.
58 Marathonos Ave., Ag. Stephanos

Ioannina
As we said before, Epirus and Ioannina have a special tradition in bakery. From its name alone, this oven in Peristeri predisposes you to hide something very delicious. It has been there since 1970, with traditional recipes, it offers wonderful bread and goodies. Personaly, i love the traditional pies and cookies you can find there.
Megalou Alexandrou 35, Peristeri – Athens
The Good Boy Bakery
The most recent addition to the space is the one that has brought a youthful air to the bakery. The awesome kid came to offer quality, delicious and fragrant bread in the city but with a fresh and modern look. His baguettes may even be envied by Frenchmen who grew up with them.
Papadiamantopoulou 30, Ilisia
Bettys Bakery
The last sentence on our list does not look like any other oven. Maybe very simply because it is not an oven in the natural sense of the store. When Elizabeth decided to quit her previous job, she had only one vision. To make wonderful, fragrant bread, with authentic raw materials that will arrive at your door every day. She succeeded and now you know that if you want the best bread at your door while you are in Greece then Betty will make it and bring it to you every day. Go to her site, choose and try. Then you will understand what fresh bread means.
www.bettysbakery.gr tel: 6944600896
Article was written with info from the greek websites oneman and popaganda.