Papoutsakia (Stuffed Eggplants)
Papoutsakia is one of the classic Greek recipes you can find anywhere on Greece during summer time. It's one of those that I always disliked when I was young but like many others i learned to appreciate as I grew older.
Maybe it's the minced meat, maybe the cream on top, or maybe the eggplants that make me like it so much now…Either way, I cooked it some hours ago and I believe was one of my best ever efforts…
So let's get quickly into action. The recipe is called Papoutsakia (=small shoes), or stuffed eggplants.
Like many things in Greece this recipe is closely connected with our Turkish neighbours as you will find that eggplants are a common thing on our cuisine. Back in the days of the Ottoman empire they have created a thousand different ways to cook eggplants. Some of them were obviously introduced to Greece during the Ottoman occupation.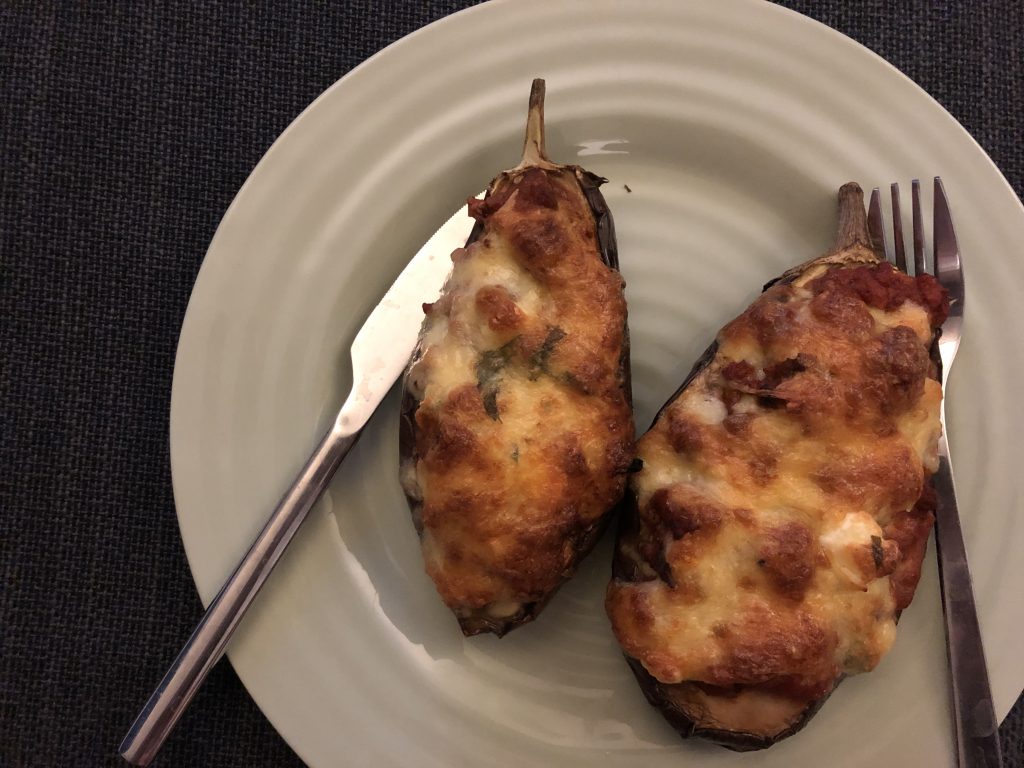 However, the Greek version includes a lush topping of béchamel sauce, a relatively new addition to this dish introduced by the famous Greek chef Tselementes back in 1920. His books shared his vision for a refined Greek cuisine and confronted many traditional recipes to the French cuisine. This explains the addition of French cooking element to this recipe and many others like the famous Greek moussaka.
Many people though try variations of this recipe without a bechamel sauce. Some, just add cheese on top or others make there own sauces with yogurt. Nevertheless, the following is as much as closer to the traditional recipe my mother used to cook for us during our childhood.
INGREDIENTS FOR PAPOUTSAKIA
2-3 eggplants (one per person)
500 grs of beef minced meat
1 chopped onion
1-2 slices of garlic
1 can of chopped tomatoes
A small bunch of parsley
Salt and pepper
1 cinnamon stick
Olive Oil
Red Wine
3 teaspoons of butter
4 teaspoons of flour
3 glasses of milk
1 egg
salt, cinnamon , nutmeg
HOW YOU COOK PAPOUTSAKIA
Slice the eggplants lengthwise to create 6 pieces. Put some olive oil on top of them and place them in an oven dish. Bake in the 180oC for 40 minutes or until you see that the inside flesh is soft and tender.
When they are done, you take a fork/knife or anything that helps you and empty the flesh of the eggplant and keep it in a bowl as we will add it to the meat we are going to prepare.
In a frying pan we put the chopped onion and the chopped slices of garlic and we saute them. Afterwards we add the minced meat in medium heat and stir.
When it starts get to brown pour the red wine and lower the heat. When the wine is more or less evaporated we add the can of chopped tomatoes, salt, pepper, the cinnamon stick, and parsley and let it boil for half an hour. Make sure to add a little bit of water if you have to.
Now for the béchamel Sauce, Ok I have to admit it was the first time I did it so… Melt the butter in a nonstick pan and add the flour and stir. You have to becareful, you need to stir all the time so it won't stick. Pour the milk and continue whisking to prevent clotting. Remove the pot from the fire, and put the egg and mix. Finally the salt cinnamon and nutmeg.