Lentil Salad
Lately I am trying to find more ways to cook healthy foods which I can take for my work lunch and the following was made for that exact reason.  Lentils were something that I missed lately but doing a soup, during summertime wasn't exactly my thing.
So I decided to see what else can we do with lentils, and I did..
It's a pretty famous dish to be honest in Greece and many Middle Eastern countries with different variations, and i have played around with lentils in a salad many times in the past. I like them as an ingredient as they can be used in various ways as i am recently learning.
In addition to that they can be really fulfilling. So…fulfilling, tasty (well…at least i liked it :$ ) , healthy (not a doctor but i think it is healthy) and traditional …Middle East food . 🙂
Ingredients
300gr of lentils
Around 10-13 cherry tomatoes
1 big green pepper chopped
4-5 sping onions chopped
3-4 teaspoons of olive oil
1-2 teaspoons of wholegrain mustard
1 bay leave
salt and pepper
1-2 teaspoons of vinegar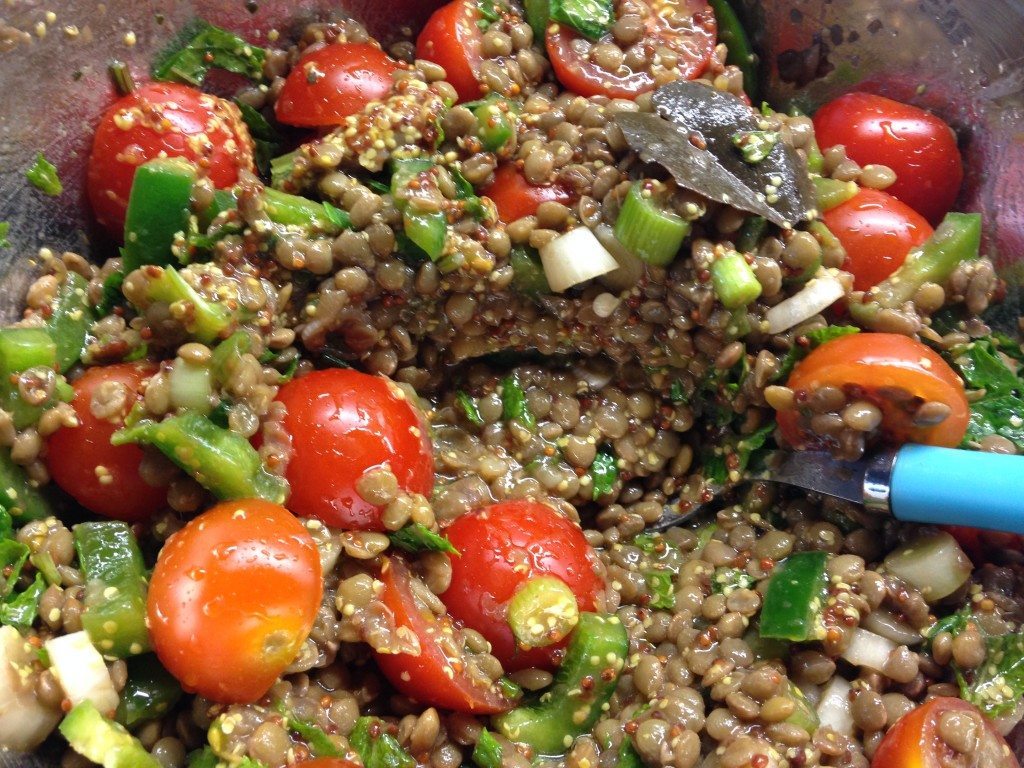 In a big pot we prepare the lentils as we would when we are making the lentil soup. Add the bay leave,  a bit of olive oil and let them boil for  45 mins.
Drain them and let it cool down
Cut the cherry tomatoes in half and add them in a big bowl, add the lentils when they have cooled down and then the chopped spring onions and all the other ingredients including the mustard.  Be careful with the quantities of the vinegar so make sure you taste and add a bit more if necessary.
Use your hands and mix them to go around!
Put the bowl to the fridge and leave it over there for 15-20 minutes and… it is ready!