Aubergine Stew with Olives and Capers
Aubergines must be my favourite summer vegetable. Many times when i try to think of different dishes to cook with aubergines i get lost from the various combinations you might have.
In this case i got the ideam from the famous imam baildi and i tried to spice it up a bit with some more ingredients. Eggplants, or aubergines or whatever you want to name them are in the heart of Mediterenean cuisine and you can get a variety of similar dishes if you are at some point in Greece.
As my father used to say it is important to manage and boil it properly and keeping the full texture of the vegetable. In the same time though the aubergine needs to melt in your mouth rather than having to chew it.
Difficult? Well, that's life!
INGREDIENTS FOR AUBERGINE STEW WITH OLIVES AND CAPERS
6 large aubergines
2 medium onions sliced
2 cloves of garlic
Around 20-30 olives without the stone
20 cherry tomatoes cut in the middle
1 glass of red wine
1 tomato can juice
Oregano and Parsley
300gr of Greek Yoghurt
Olive oil
Salt and Pepper
METHOD
In cutting board start putting your aubergines and cut them in cubes with sharp knife.
In a deep pot add some olive onion and the onion and the garlic until it becomes brownish. Make sure you stir them all the time so they don't get burned.
Add the olives, and the capers together with the tomato juice. Continue to stir them for couple of minutes.
Next, add the aubergines and leave them for couple of minutes. Pour the wine and let it for a minute more. Throw in the tomatoes , salt and peeper and lower the hit.
Keep boiling it for 25-30 minutes until they aubergines are done with out loosing there texture as we said before.
Just a bit before the end, add the oregano.
Serve in a deep plate by adding a big spoon of Greek style Yogurt on top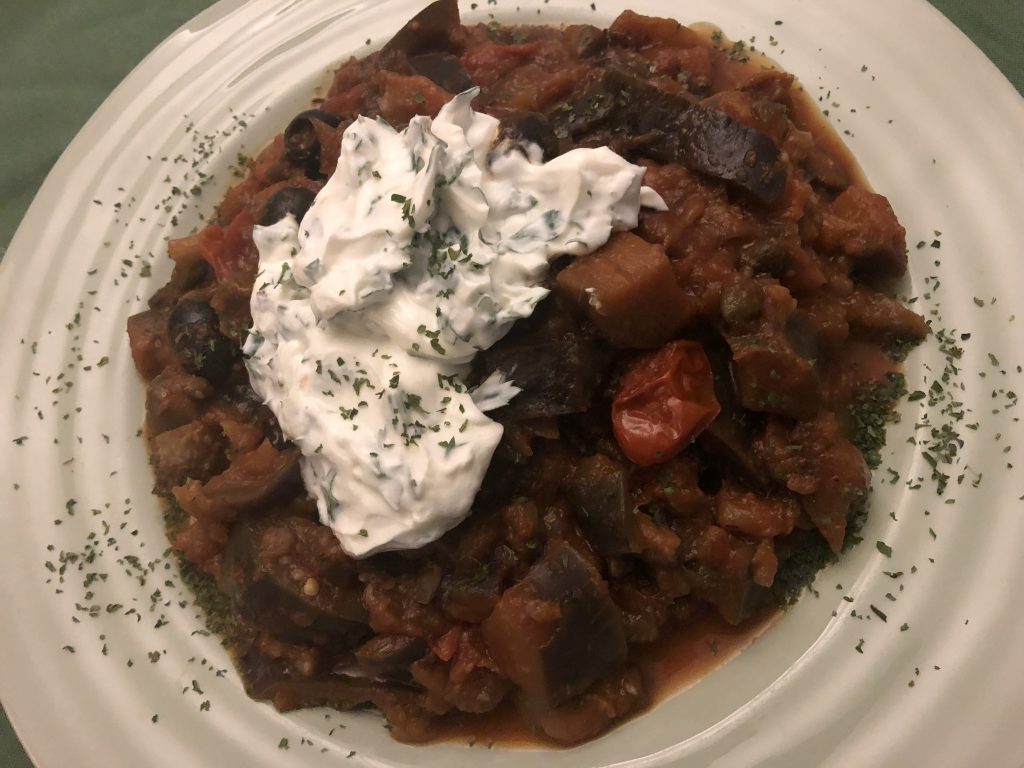 .