Pastourmadopita – A dirty pleasure
Pastirmas (or pastourmas) is a sausage that is particularly popular in Turkey and generally in the Arab states. Its name comes from the word pastırma et, which means pressed meat in Turkish, possibly because of the custom of nomads and migratory breeds in general, to have meat with them.
My father who had roots from Asia Minor really loved it and we had him many times cooking it when he was at home.
Pastirmas is made from the side of the animal. It is usually made from calf, lamb, camel, or buffalo. Better and more expensive, it is considered the camel side pastry.
The meat must lose all its liquids and then bake with thick salt. It is first placed between two woods that are tightened slowly and more tightly in order the water is drained. At the last stage, the pasted meat is covered externally with a layer called "çemen", a mixture of spices consisting of cumin, cassava, garlic and paprika. It dries hung in the air, in the sun, for about 30 days, or smokes for shortening of time.
Many people don't want to try it because it smells really bed and that is due to the cement, so many remove it before they consume it but thats up to you. It can be eaten with eggs, together with tsipouro, but the best way to appreciate it is the pastrima pie or in Greek "Pastourmadopita" .
Ingredients for Pastourmadopita
10 slices of pastirma
2 slices of peppers sliced
200 gr of kasseri cheese or any similar hard cheese.
4 tomatoes sliced
2 tea spoons of olive oil
salt/pepper
2 sheets of pastry dough
White mushrooms sliced
1 egg
Poppy seed (not necessary)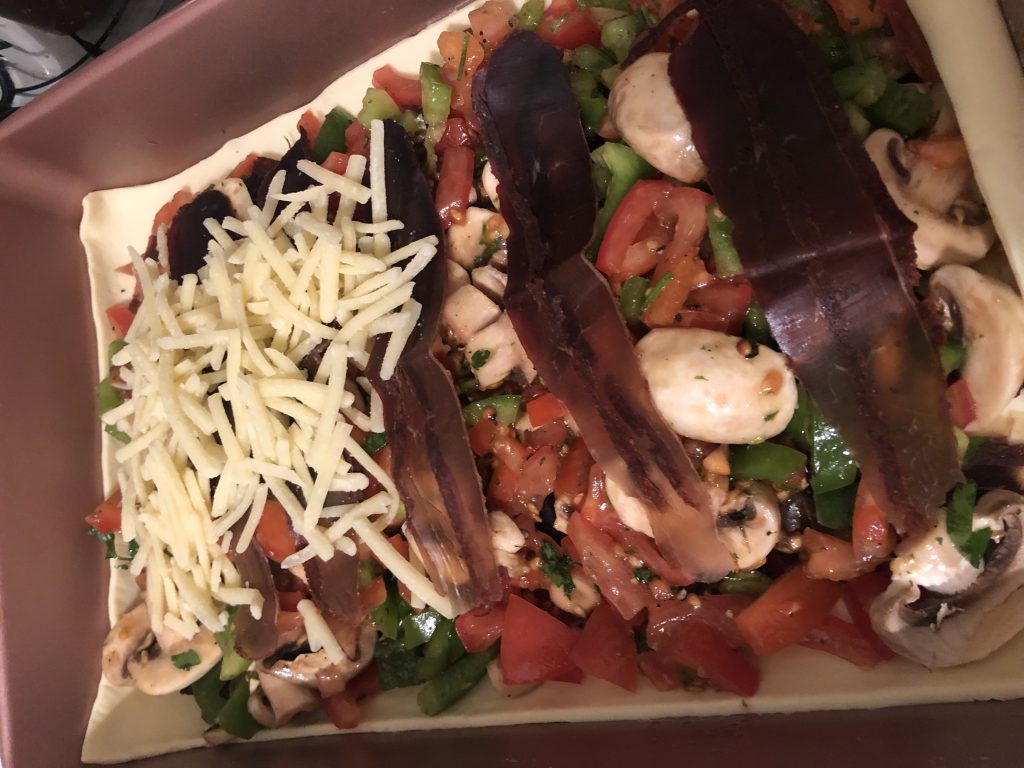 METHOD
Pretty simple to be honest… Its always simple if you dont have to make your own dough
Lay the first sheet of dough in a deep pan.
Start adding all ingredients one after the other. Leave some space in the sides so the sheets can stick together easily
Make sure that your remove the liquids from the tomatoes.
Break the egg and add the half of it around .
Put the second sheet and close it using a fork carefully. Make sure that you don't leave any spaces. Add the rest of the egg on top and sprinkle it around as this will help "close" the edges of our pie.
Sprinkle with poppy seeds on top.
Bake for around 1 hour depending on your oven.
Many are adding various herbs also in the pie but i think that kills a bit the flavour from the pastirma, which should be the main focus. Either way, enjoy!