My Mothers Isli recipe
Going back home for Christmas is something that is always a little bit of ritual. Like every celebration there are some things you need to do or expect from some. Like you expect to get some gifts or give some gifts or even eat a turkey or pork if you are in Greece. That is what i was expecting every time i was going back home…a lot of food and my mothers traditional isli desserts.
Well, isli is a dessert that Greeks cook it during Christmas and has its roots from Turkey and far far before… I am not so sure about the history to be honest but i do have learned that in Turkish it means "that is worked", basically meaning that is all worked with your hands as you need to do it to make it.
My mother is pretty well know in the family for making really tasty isli's and rumours says many people ask her advice on how to cook them.
Last christmas when i was in Greece i managed to write down the recipe from my mother with the purpose to get it out to the public…. And so i did it . Sorry mom, the secret is out!

Ingredients for Isli Recipe
For the dough
400gr of herbal butter
1 glass of orange juice (200gr) diluted with a bit of water
100gr of sugar
Zest from orange
700gr  of  flour
For the Sirop
400gr of Sugar
200gr of water
1/2 lemon juice + 1 lemon peel
For the stuffing
250gr of walnuts
2 spoons of sugar
Cloves
Cinnamon
1 spoon orange zest
How you Cook Isli cookies
Take a pot and in medium heat add the butter and melt it. Add sugar and stir it with a spoon until it is half melted.
Transfer everything to a deep bowl and add the orange juice with a bit of water. Now its time to add our orange zest and stir with our hands. Lastly we add the flour and we stir everything with our hands creating our dough.
For the stuffing we take the walnuts and break them in the multi taking care though not to "melt" them, adding the rest of our ingredients and mixing them up properly.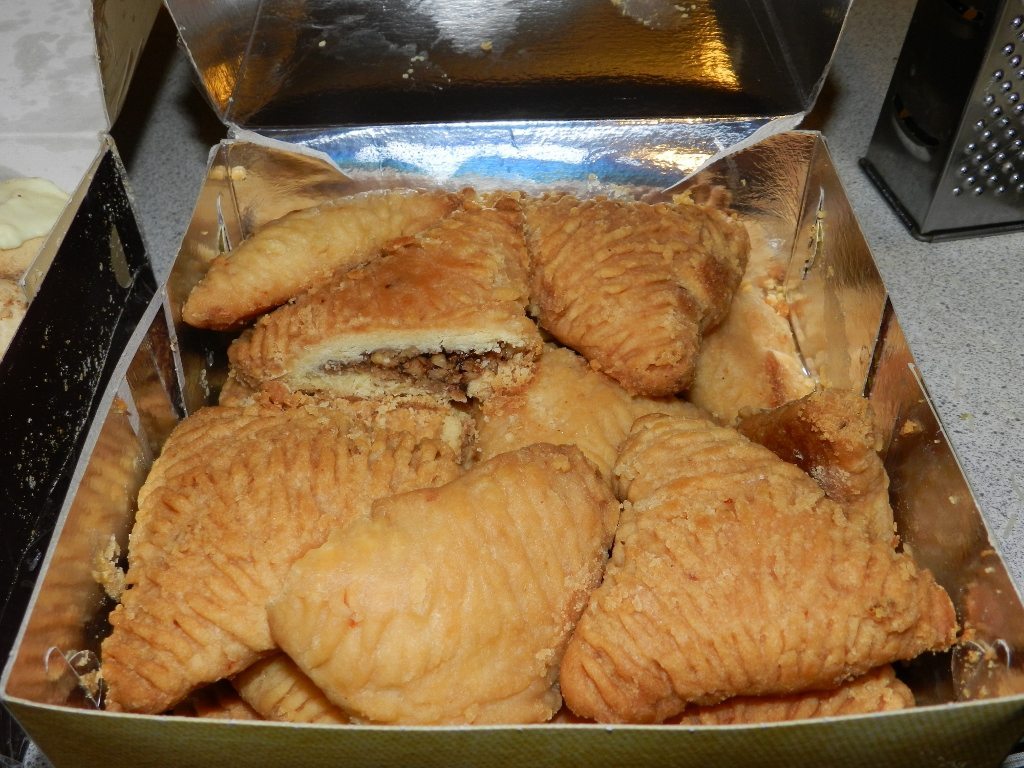 Take a bit from the dough and create a small ball…now here comes the important thing. At a moment when she was too tired my mother told me that in order to get this beautiful size on all of them she weighs each bit of dough to be exactly 45gr.
Place it on your hand and open it up in a circle. Place one spoon from the stuffing and close it creating a small triangle. Turn it around so the seams are underneath and with a tweezers you pinch them to create the decoration on top. You can improvise..
Place them in the oven for 25 minutes at 170c and leave them until they become red around. That is necessary so they don't get soft when you pour the sirop on top.
When they become red-brownish on top you remove them from the oven and you leave them on the side to cool down. Now its time to prepare the sirop.
Add the water, sugar and the lemon in a small pot and boil them in medium heat for 5 to 7 minutes. If the sirop thickens then add a bit of water to dilute and wait until you get the first boil.
Pour the sirop on top of the isli and …enjoy!