Pickle Recipe (toursi): How to make your own traditional pickles
2011-10-05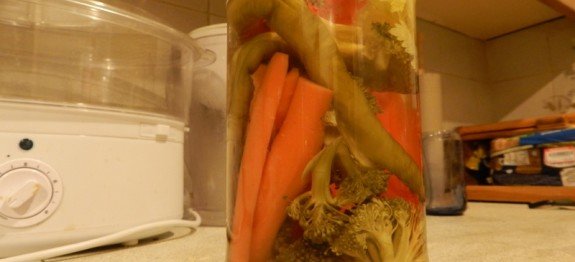 Servings :

It depends

Prep Time :

20m

Cook Time :

8m

Ready In :

7m
One of the best things that you can have a side dish is pickles or  "toursi/τουρσί" as it is being called in Greek. You know about and you see them more or less every time on the super markets.
I always used to have toursi at home because my father used to make it in a bowl by himself. Its not difficult to make and its really enjoyable and tasty.
There are different kind of pickles depending where you are coming from, for example in USA and Canada they like to do cucumbers, while in Greece , Turkey and generally the Arabic countries I think we are more on green peppers and other vegetables.
The process is basically really simple, you leave all the vegetables in a lot of vinegar and let it the vegetables receive it for some days.  But who am I to talk about those old and traditional recipes.
Well, recently we got my father as a present a laptop so we can communicate a little bit more easily, and as a first job I made him write the recipe about toursi …the pickles recipe.  So here it is in his own style…the recipe for pickles as my father send it in his first email to me…

(obviously translated…)
 PICKLES – TOURSI
Ingredients
A good size is one of three litres sizes (usually they write it in the bottom)
Buying the material for any pickles recipe
Vinegar. (For a three litre container we need a 500ml vinegar, the vinegar must not be from apple but wine )
Salt. 1 spoon
2 to 3 slices of garlic chopped
A little bit of celery
3 to 4 carrots
Additional Ingredients for the particular pickle we are going to make
600 to 700 grams of green peppers
We can replace them with other vegetable or put them all together if we have space.
For example cauliflower, cabbage etc.
Method
Step 1
Clean and wash the carrots cut into length approximately 4 to 5 cm and put them into glass
Step 2
Clean (Cut the roots and bad leaves) and wash celery and put them in.
Step 3
Peel the garlic, cut it in thin slices and put into the jar
Step 4
Wash and outline the peppers in lenght and put them in the vase.Just be careful to put them tight so all of them feet
Step 5
Pour a spoonful soup of salt.
Step 6
Pour the vinegar in, be careful to reach halfway in because we have other ingredients also.If you see that the color of the vinegar is dark then maybe you need to add more water or less vinegar as that shows that is strong. You can see that in the taste later on, if it is too strong add water.
Step 7
Add the water until the top. Make sure that all the ingredients are covers. Ideally in the jar there should be 50%-50% of water and vinegar.
Step 8
Stir moving the jar up and down (that's why it is important the vaze to seal when you close it). Leave it in your kitchen for 3-4 days until the peppers change color. When this happens you should turn it upside down and leave it again there for 3-4 more days.
After 7-8 days it should be ready..

Additionally you can add
CAULIFLOWER. Wash and cut it and add it in the jar
CABBAGE. Cut the leaves Wash and cut it more or less as our palm
BULBS. Small onions like the ones we use for the stew, just clean them and add them inside .
GHERKINS. If you find small  (approximately 10cm)  add them inside. Only clean the top and the bottom place. After 5-6 days remove them and cut them in fat slices like in the salad. Add a little olive oil and eat them.
GOOD LUCK
Average Member Rating
(5 / 5)
4 people rated this recipe
1,770 views
Related Recipes:
We Are Social
Recipe Comments