Sprats with mustard and lemon
2011-11-02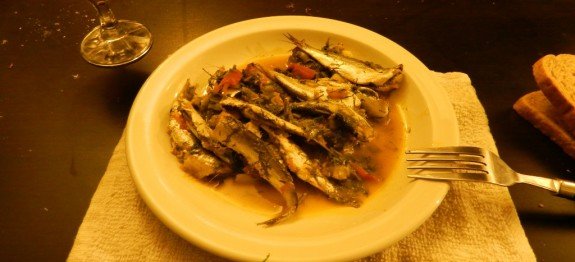 Servings :

2-3

Prep Time :

15m

Cook Time :

15m

Ready In :

30m
You know sometimes I come back from work and I always have something on my mind that I want to eat. I dream of it from the morning and I have already decided how to do it and sometimes I even taste it on my mouth before I buy the ingredients.
The other day I was dreaming of stuffed squids which are typical recipes in Greece. I though…ok…you will go to the Market buy a squid and make it…how difficult can it be??
Nevertheless it seemed that it wasn't meant to be that day to cook a squid. The guys in Sainsbury had only one squid and it was too big for me…not exactly what I had in mind.   Disappointed I was looking for anything else and then my eyes fall into some nice sprats. Hmmm….why not…
So I took some of them and went back home. I have to admit, I looked endless times on the internet to find something suitable and this recipe belongs to this site over here. Since it is in Greek however, I will take the opportunity to translate it for all the other Chefs of this world.
So..get your sprats ready…and here we go.
 SPRATS WITH MUSTARD ON THE OVEN
Ingredients
Sprats…as manyas you want from those lovely little fishes
1 red onion chopped in thin pieces
1 glass of white wine (since however you will drink half of it… lets keep at least ½ glass of white wine for the recipe)
Parsley and some leaves of mint.
2 small spoons of mustard (I used English mustard)
The juice from 1 grated tomato
Olive Oil as always
Juice and zest of one lemon
2 slices of garlic chopped
Salt and pepper
And lots of love
Method
Step 1
First we clean the sprats. If the guy on the Super Market where we bought them hasn't done that for us…then we have to do it. It can be a blood bath… Just pull the heads off and make a small line in the middle pulling their small cute guts out. (it was really nasty…I had to close my eyes when this was happening)
Step 2
Put them in a small oven pan next to each other, really close. We open the oven in 200c to pre heat In another pan we put the onions and garlic to shallow fry them. Add the two spoons of mustard and the juice from the grated tomato stir them and let them cook for 4-5 minutes.
Step 3
Add the wine and lower the heat. Wait 3-4 minutes until the alcohol vaporizes. Then we remove the pan from the fire and we add the parsley and the mint which we have thinly chopped. We add the olive oil and the Juice and zest of one lemon.
Step 4
Then we pour our sauce over the sprats and we use our hands to make sure that it goes on all the sprats equally. In cooking sometimes if you don't use your hands… you don't get the results you need. We put to the oven and cook them for 15 minutes
The food is ready! You can eat it as it is or use it as a side dish. The combination of lemon, mustard, olive oil with the parsley , mint and the sprats….. I thought it was great J
In the original recipe you can add also  capers …and breadcrumbs… but  I will tell you about that when I do it again J
Average Member Rating
(5 / 5)
5 people rated this recipe
1,251 views
Related Recipes:
We Are Social
Recipe Comments