Giouvetsi with Beef
2011-06-13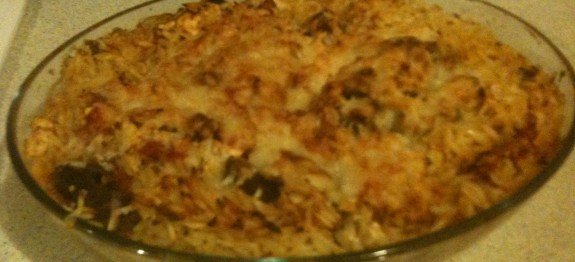 Prep Time :

0m

Cook Time :

0m

Ready In :

0m
Giouvetsi is an old Greek recipe that Greeks used to do in the oven. As years went there were some small changes in the recipe but the essentials remained the same….and the taste of course.
I remember when my mother was making us food when we were young she always had problems explaining to us how should we warm up the food as she was working and couldn't come home on time. For Giouvetsi however it was much easier…you just take it from the oven where she left and start eating it as a maniac…(which we did)
Giouvetsi it's a typical Greek food that you can do it either with Beef, lamb or chicken and pasta – ideally kritharaki.
Kritharaki is Greek style pasta which is a little bit longer than rice and usually you can find it in any kind of shop that is selling Middle East food.
Method
Step 1
he way we do the giouvetsi in Greece (or in London where we are now…) Cut the meat in pieces with a cube shape. Put olive oil in a pot and add the meat and the onion and shallow fry it a little bit until it becomes brown.
Step 2
Add the tomato sauce, salt pepper and all the herbs and some water. Boil the meat until it becomes really soft and the sauce really creamy. Add one glass of wine and take it of the heat. Put the Beef together with its sauce in a roasting pan.
Step 3
Add the pasta and mix it with the meat around the roasting pan. Add water. Don't fill it up until the top but make sure that the pasta is really floating into water. The water that you will have in the roasting pan will help the rice to cook while its in the oven. Ideally you should add 2 glasses of water for 1 glass of pasta.
Step 4
Bake it in slow fire for 30-45 mins. Watch it carefully as its being done and stir the pasta from time to time. When its ready, take it out and add some strong cheese on top of it. Put then the food back to the oven for further 5 mins until the cheese is done.
Notes
1 My mother –and always mothers advices count- told me that you can cook the pasta before as you do usually your pasta and then add them both in the oven in the same way. It is easier and makes the meat more tender as it doesn't need to stay for too long in the oven. It's a different way…but still good…
2 Try adding some Feta cheese in the pasta when you put it in the oven….classic…